Nai Harn Baan-Bua nestled on the southern end of Phuket, only 1 km. from Nai Harn Beach which is one of the island's most beautiful beaches with its excellent water quality, powdery and white sand beach. There's a large freshwater lagoon inland and it is encompassed on both sides by jungle-covered mountains making Nai Harn area is so picturesque. This quiet and tranquil place has only a few hotels and is a favourite anchorage for boats during the high season.
All year round the water is a comfortable temperature. Flat lake-like crystal-clear water invites you for swimming from November to April, however care should be take in the low season (May-October) when there can be strong undertows on occasion. The local restaurants just above the beach make a great place to relax with a sundowner.
Listed below is traveling time by vehicles or motorcycle with normal driving speed condition from Nai Harn to other main area in Phuket.

Promthep Cape 5 minutes

Rawai Beach 5 minutes

Kata Beach10 minutes

Karon Beach 15 minutes

Patong Beach 20 minutes

Phuket Town 20 minutes

Phuket International Airport 45 minutes
Area of Nai Harn which includes Rawai Beach and Chalong Bay has a convenient and casual access to wide choices of restaurants, supermarkets, fresh bakery shops, butcher and delicatessen, post office, banks, photo shops, as well as mooring facilities and a boat pier.
With its peaceful and unspoiled character of Nai Harn areas, yet close to the conveniences and access on facilities for residents' living makes it be one of the most desirable residential area in Phuket for a permanent home of retired expats or a vacation spot to rejuvenate people from all around the world.
Map of Nai Harn Baan-Bua [View Map]
Other Attractions near Nai Harn Beach
Beside the charm and tranquil surrounding itself, there are a few interesting spots in the area such as Nai Harn Lake, Ya Nui beach, a famous sunset viewpoint, Phromthep Cape, Rawai Beach, and vicinity boat pier of Chalong Bay.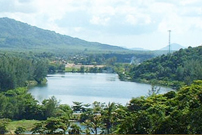 Nai Harn Lake is an inland freshwater lake about 1 km. long and located very close to Nai Harn beach. The lakeside is popular for picnicking, jogging, bicycle riding and organised water sports events. It has a small island in the middle with a causeway connecting it to the mainland. At the southern end the lagoon flows into the sea, creating a stream that children love to play in.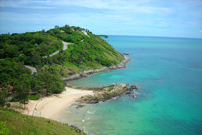 Ya Nui Beach is the small and secluded, places like located just north of Nai Harn between Nai Harn and Rawai Beach. This sandy cove has a lovely strip of sand that's ideal for swimming and snorkeling. Another out-of-the way spot nearby is the tiny beach of Ao Sane, a great spot for snorkeling, reached by taking the dirt road.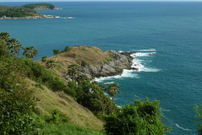 Promthep Cape is the rocky hill on the most southerly point of Phuket. It is the island's most photographed and best -known location for the ultimate spot to watch the sun setting over the water. You can have an excellent view of the "half-moon" bay housing Nai Harn Beach. There is also a lighthouse, commanding spectacular views over the east and southeast of the island.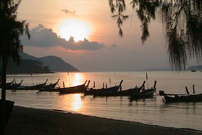 Rawai Beach is known by the main attraction of the seafood along the length of the beach. Nowadays Rawai is a 'working beach' and a launching point for day boat excursions out to Phuket's surrounding islands. Many longtail boats available for hire line its shores, where you can arrange a trip to many islands privately by chartered boat.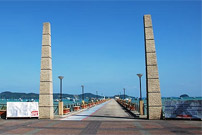 Chalong Bay is a centre for intense boating activity with the big jetty that supports various of speedboats, ferries, long-tails, and mooring yachts which are anchoring here. Many people do some island hopping as well as diving and snorkeling or hire a private boat for fishing or sight-seeing here. A parking area and a number of restaurants, shops and tourist information are available to serve many visitors passing through.